Welcome to another Queer Etsy Street Team interview! This time we're talking to Mariana from LivingatNight...

What sorts of things do you offer in your shop?
Almost 100% Jewelry! (I'll explain that in a minute). The banner on my shop says "Chilean Design in New York City," because I design and make the pieces and they definitely have a South American design element with an urban, New York City flavor, which is where I live. I do work with vintage materials on occasion, because I like to give new life to things that have been around for a while instead of always producing more stuff in the world-- so that's my contribution to reuse, recycle, repurpose.
So my shop has artisan jewelry that is one-of-a-kind, sometimes custom made for a buyer who requests it, and I'm always changing designs to go with the seasons-- or when I have a wonderful new idea. My designs don't really follow trends in the mainstream fashion industry, but because I love jewelry and the decorative arts I am aware of what people are wearing in the City. I get a sense of what people enjoy wearing, what makes them happy and expresses something about them. For me, designing jewelry is not about following industry trends because those ideas are ephemeral-- in my small shop I enjoy making pieces that people will enjoy today as well as years from now.
I also offer prints of my brother's original art work, which he created when he lived in New York City with my elderly parents. They show the fusion of urban and more traditional, representational art.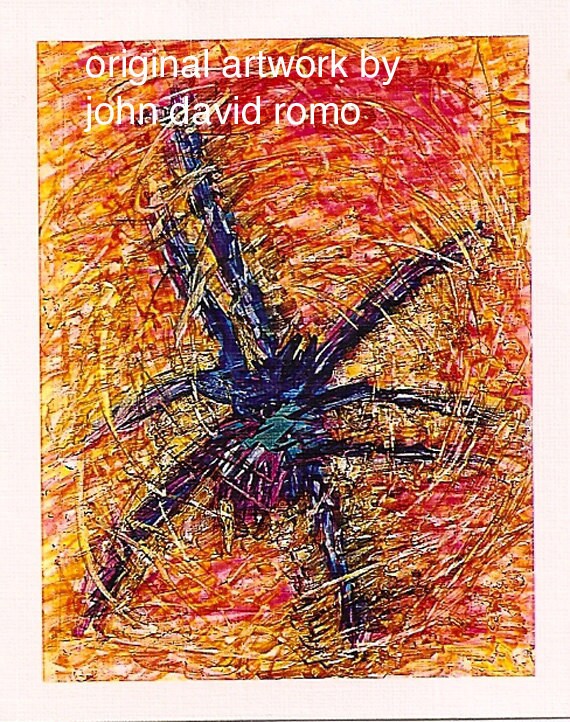 Prints of Original Artwork by John David Romo: The Web
How did you first start selling on Etsy?
In July of 2008 I opened the shop with only two pieces: The important piece was a pair of earrings I designed titled "Breast Cancer Amazons" which I hand-formed in 14k GF with genuine blue sapphires. I made them to celebrate the people who fight against cancer- I have lost dear friends - and especially because my life partner had a mastectomy that year, underwent chemotherapy, and has been in excellent health ever since. The fight is far from over, of course, but I remember my friend and poet, Audre Lorde, who wrote Cancer Journals, who was one of the first African American women to write about cancer surgery, about reconstructive surgery and the pressure on women to wear prosthetic breast implants.
As it turned out, though, I had just begun to make jewelry for Overstock's artisan division, Worldstock, so I didn't continue with my Etsy shop then. Along with Overstock, I still had my job at ABC Carpet & Home, where my designs were getting known, and I taught literature part time at CUNY.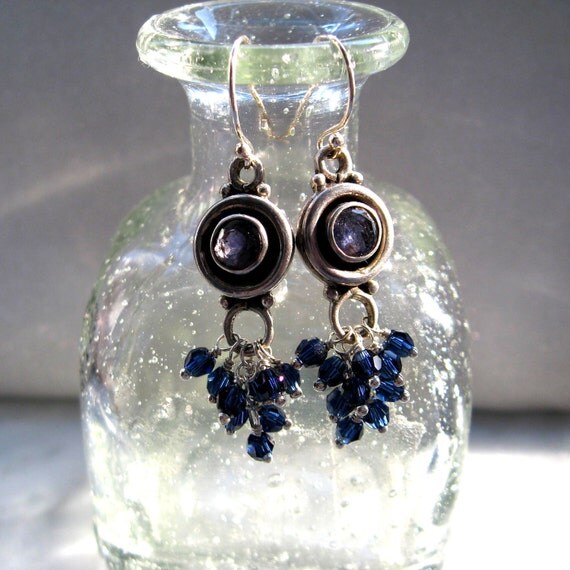 Iolite Sterling Silver Earrings
How long have you been selling?
Since 2003! At that time I was teaching full time at Goddard College, in the MFA in Creative Writing program. It's a low-residence program, also called distance learning, which allowed me to live in New York and travel to Plainfield, VT twice a year for the intensive residency. The rest of the time, teaching was conducted through the mail and online. I had been making jewelry for a while, learning from my mother who was a multi-faceted artist, and from friends. The truth is I was fascinated by precious stones, and even though I had no desire to go around covered in diamonds, I enjoyed looking at jewelry everywhere. I mostly gave things away, but friends began to recommend my designs to their friends, and often commissioned pieces for special occasions.
One day, a former student who is also a web designer, (Jennifer Rumford, a lovely person and talented writer) suggested we work together on a website for my jewelry. We called it Living at Night Jewelry Design, because that is the name of my first novel. But it fit, because I do make jewelry for evening as well as day wear; I get my inspiration at night while reading, writing, and even dreaming! The website was fabulous-- Jennifer added animation and she titled all the pieces with literary references, such as Dark Wine Sea garnet earrings (from The Odyssey), or Margarita's Necklace (from a poem by Rubén Darío). Unfortunately, no one ever bought anything from my website! Only from me, by word of mouth, so I consider that a compliment.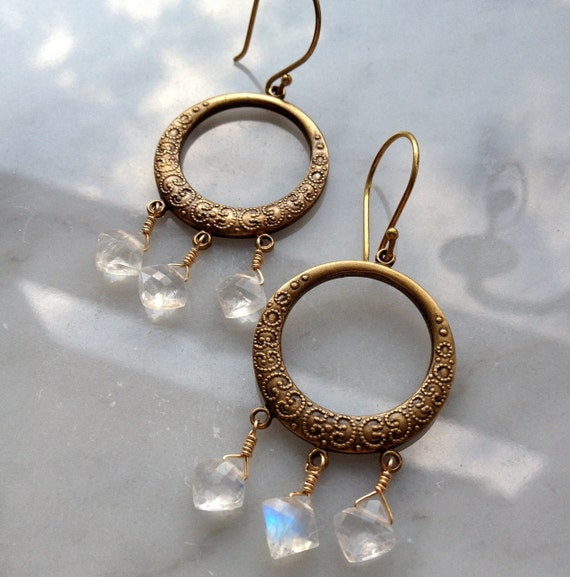 Moonstone Special Sale, faceted gemstone, vermeil wirewrap Chandelier Hoops Earrings
Do you sell anywhere else?
Yes, I do have a shop on Zibbet and Craft Cafe, but most of my online sales come from my Etsy shop which I reopened in July of 2011. I write a blog on jewelry and all kinds of esoteric (and silly!) stuff where I feature some pieces that are not on Etsy. (See
http://livingatnightjewels.wordpress.com
) People can always order anything from me at
livingatnight@me.com
What are your favorite materials to work with?
I still love precious stones! My birthstone is Peridot, but I'm very partial to sapphires in all colors. Moonstone, Australian Opal, Apatite-- and of course pearls in all varieties. I enjoy working with pure copper, to shape it and hammer to obtain new color and texture. I use sterling silver and gold vermeil, and while it lasts, 14k gold wire and chain (at great prices). I also enjoy crocheting stones with silk thread onto silver hoops, for special designs with Larimar and Amber.
What got you interested in your craft?
Literature- isn't that odd? I'd have to say it was my love affair with fantasy and romance as a child. In Arabian Nights and many other tales there were descriptions of fabulous gems that had special powers-- talismans. The idea fascinated me. I also grew up surrounded by visual artists, my parents, my grandfather, my uncles who were photographers, a family of very modest means in Chile in the 1950s. I wanted to do visual art but never felt I could. As an adult, my ability seemed to lie in creativity with language, but I sort of longed to be able to do something directly with my hands that would allow me to enter a different creative space. I think that jewelry design was something that was right in front of my face, but I couldn't see it!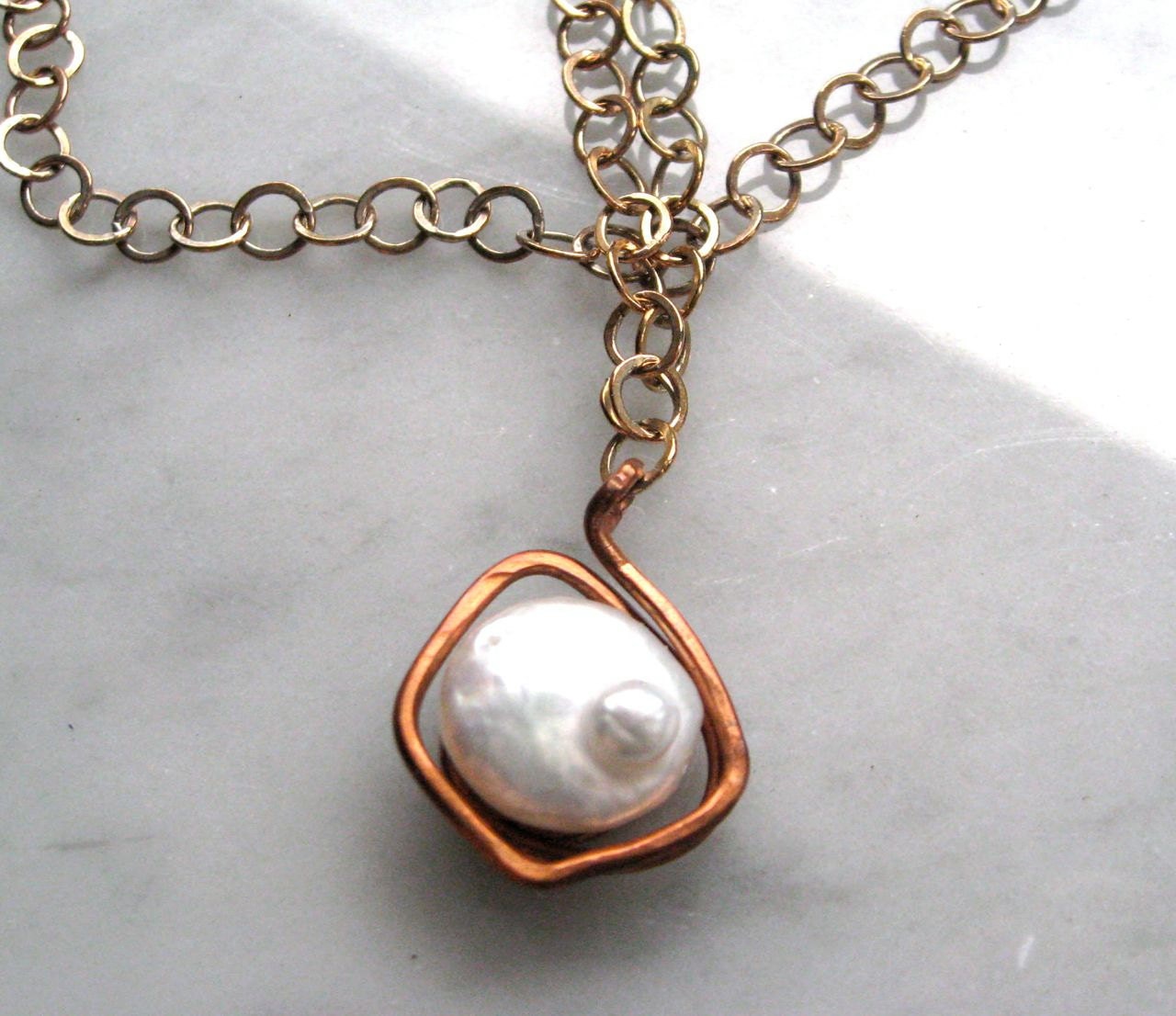 White Pearl and Copper Pendant, handmade setting, fresh water coin pearl, high luster
Are there other creative projects you are involved in outside of your work in your Etsy shop?
Yes, writing and the making of books will always be inside me. I have two novels I'm working on, one in Spanish and one in English that I have put aside because of several tragic losses my family has experienced in the past three years. It's painful to write, sometimes, and my books have a great deal to do with family, immigration, addiction, loss, homophobia, and depression. So, because I've translated and edited books in the past, I co-founded a small bilingual publishing group, called Escritorial Press. It can be found at
http://escritorial.org
. We published three books in 2011, and we're working on a fourth this year. Next year we hope to publish a multi-lingual poetry anthology by children 8-18, in Catalan, English, and Spanish.
(You can read more about Mariana's writing on her writing blog at:
http://marianaromocar.wordpress.com
and check out her debut lesbian novel on amazon.com:
Living at Night
.)
Besides art/crafty stuff, what else do you like doing in your free time?
Well, last night, my gf/life partner June, and I were playing Angry Birds to relax! I enjoy films very much, anything from boring intellectual stuff to glossy Hollywood movies. Naturally I love watching period movies such as Downton Abbey so I can enjoy the jewelry! Also, when I was 45, I decided to study martial arts. I had seen movies with Michelle Yeoh and Jet Li and thought they were the greatest. I got a black belt in karate and then continued with t'ai chi. I don't practice either one these days, but June and I both love dance. Our favorite date is to go to the Ballet at the Met, and then go have a cheap dinner at a NY diner.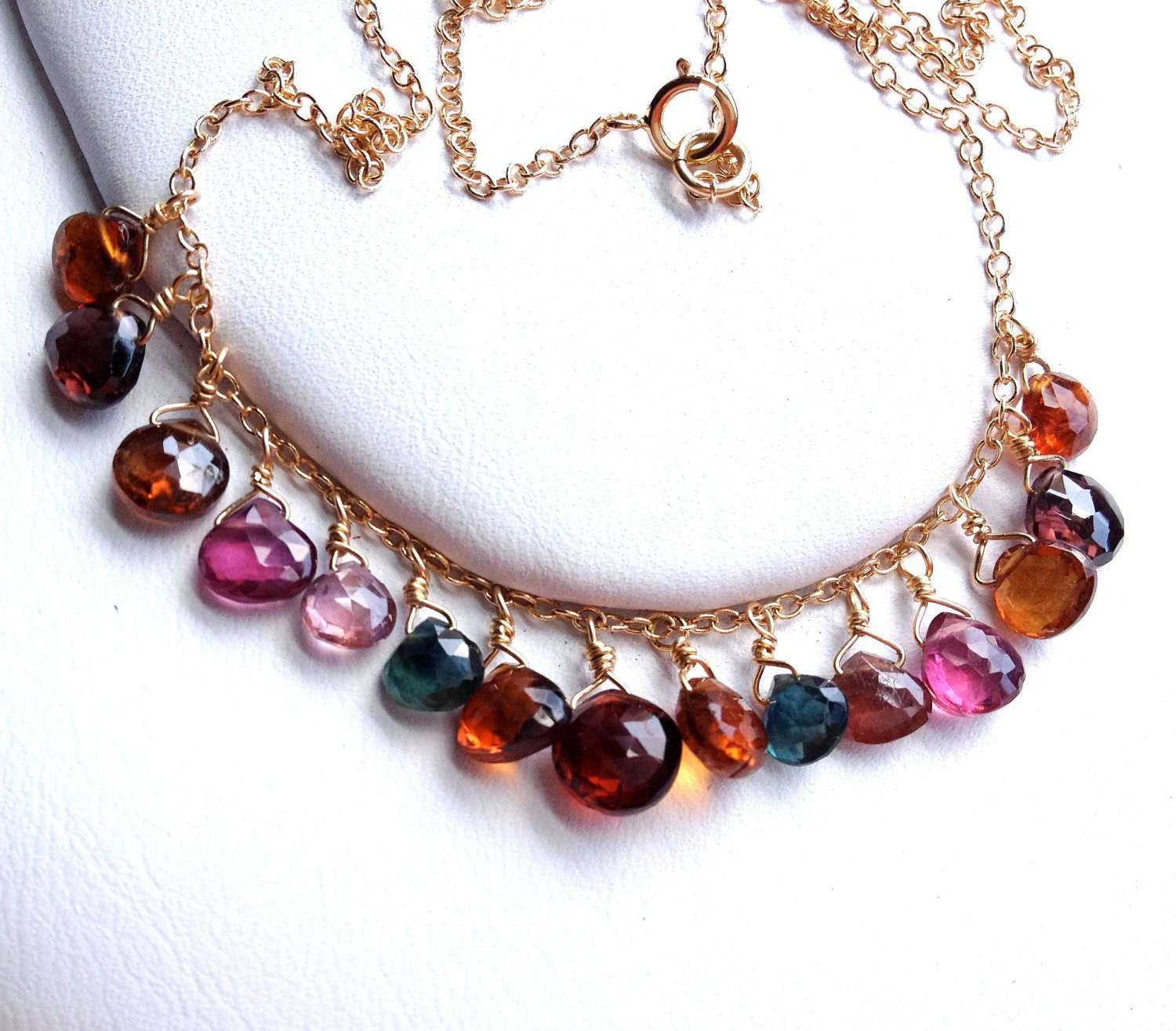 14k Gold, Garden Sapphire Multicolor Gemstone Necklace. Red, orange, pink, lavender, mauve, amber sapphires.
Does your queer identity come into play in your work?
Yes, I cannot separate myself into pieces anymore, and I think that's a good thing. I'll tell you a story. When I came out as a lesbian, I lost custody of my only child, my son John Christian. He was almost two-years-old. This was the1970s in the state of Connecticut. I was 23 and was not very world wise. When I fell in love with a woman it never occurred to me to keep it a secret. It was a terrible time, and I don't think it would have been any better if I had been silent, but in those days many queer people had to hide from themselves if they wanted to live in peace. For 17 years it was a constant struggle to maintain visitation with my son. I remember once, making a strange looking necklace from a tiny carnelian and silver pendant, crocheting a web with orange thread and weaving in brown bird feathers I found in the woods. I realize now that it was a sort of talisman I wanted to create, for protection against the emotional onslaught of what I was living. I think that in any art we practice, be it painting, writing, design-- our real selves emerge Art comes from a place we enter that we can't always consciously reach and yet each of us inhabit it at times.
When I make jewelry, I think there is an abstract sense of the "lesbian romantic," the Chilean woodlands, the Atacama desert, the New York City "vibe," all expressed in my work but they're not elements that are immediately obvious. When I make a custom piece for someone, I try to embody the person's nature in my design, and that space of connection is very special, unnamed, but understood.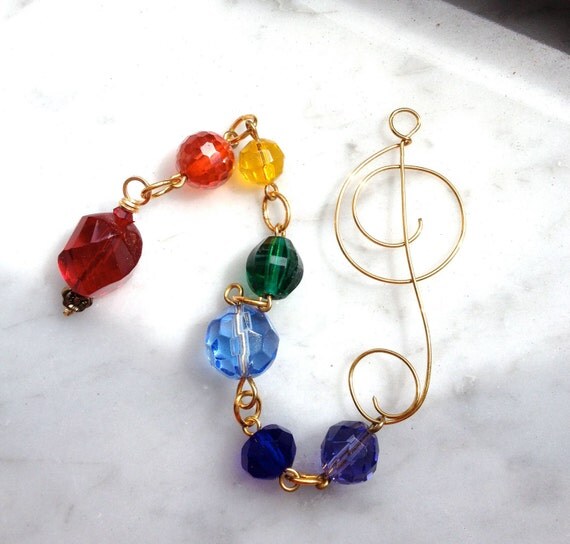 Rainbow Suncatcher with Musical G-clef, crystals, Czech beads, cubic zirconia
Is there any advice you have for our readers?
Oh, I've got advice on any subject. ;) Somebody stop me!
Here is one from martial arts that kind of ties things up... My karate teacher was a man of few words, Shuseki Shihan Wm. Oliver, born and raised in Brooklyn. We were watching a young star practice his kicks and jumps, leaping 3 ft up in the air. As an older student, I could only dream of jumping so high. "Watch," said Shuseki, leaning over to me. "You can tell exactly who a person is from their karate."
I puzzled over this, of course. You were meant to puzzle over it. If you're thinking of setting up shop and selling your work, remember that everything you are comes through whatever you do in life. Who you really are will show in your art work and in how you deal with people. So let us see you in all your glory! Creating a particular look is good, but make sure it makes you happy. You might be more formal in business than in personal life, but it's still you, and you have to love what you do. Enjoy!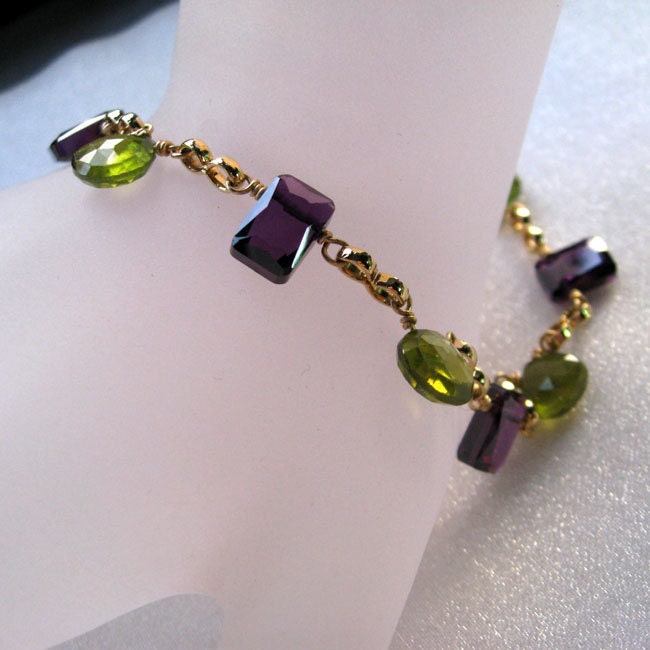 Apple Green & Purple Link Bracelet, Hydrochrosite Green Briolettes and grape purple faceted cubic zirconia crystals in 14k gold fill links